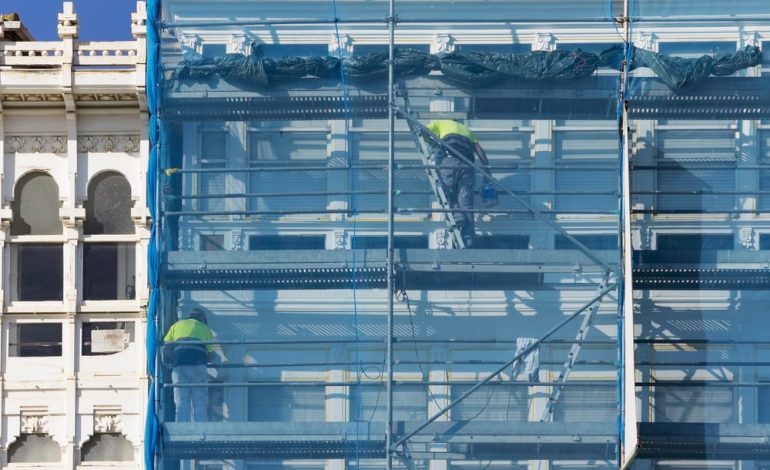 When it comes to renovating the exterior of your building, there are a few things to keep in mind to ensure that the process goes as smoothly as possible. First and foremost, you want to make sure that you choose a reputable company to handle the job. There are a lot of fly-by-night companies out there that will take your money and do a poor job, so it's essential to do your research before hiring anyone.
In addition, you want to ensure that you are clear about what you want the result to look like. It's helpful to have some inspirational photos on hand so that the company you hire has a clear idea of your vision. Finally, you must be prepared because exterior renovations can be disruptive and noisy. 
With all of that being said, here are some of the best practices for facade renovation:
Choose a reputable company

Be clear about your vision

Be prepared for disruption

Have a budget in mind

Don't be afraid to ask questions
Planning for Facade Renovation
As a building owner, you know that maintaining the condition of your building is essential.
The first step is to get an idea of what you want your building to look like after the renovation. This means researching and looking at before and after photos of other facilities in your area. Once you know what you want, the next step is to find a reputable contractor specializing in facade renovation.

The next step is to get an estimate from the contractor. This is important because you must know how much the project will cost. Once you have an estimate, you can start planning for the renovation.

One of the most critical aspects of planning for facade renovation contractors is ensuring you have the budget. This means having enough money saved up or taking out a loan if necessary. You must also ensure you have the time to devote to the project.
Facade renovation can be a big undertaking but ultimately worth it. By planning, you can ensure that your home's facade looks its best.
Inspecting Your Facade for Renovation
Here are some things to look for when inspecting your facade:
Cracks in the bricks or mortar: 
Small cracks are usually not a big problem, but large cracks can indicate structural problems. If you see any cracks, be sure to have a professional look to determine if they need to be repaired.
Peeling paint indicates that the underlying surface is not in good condition. If you see any peeling paint, scrape it off and repaint it.
Rust can occur on metal surfaces, such as railings or gutters. You must sand it down and repaint the area if you see any rust.
Loose or missing shingles: 
Loose or missing shingles can allow water to enter your building, causing damage. If you see any loose or missing shingles, be sure to have them replaced as soon as possible.
Cracked windows can let in drafts and cause energy loss. If you see any broken windows, you must have them repaired or replaced.
Once you've inspected your facade, you can start planning your renovation project. Consult a professional contractor if you need help figuring out where to start. They can help you determine which repairs or improvements are necessary to achieve your desired look. 
Benefits of Facade Renovation
If you're a property owner in New York City, you know that maintaining the condition of your facade is essential. Not only does it improve the curb appeal of your property, but it's also required by the NYC Building Code. While facade renovation can be costly and time-consuming, many benefits come. Here are just a few of the benefits of facade renovation:
A well-maintained facade can do wonders for the curb appeal of your property. First impressions are everything if you want to sell or lease your property. A clean and well-maintained facade will help you attract potential buyers or tenants.
Not only will renovating your facade improve the curb appeal of your property, but it will also increase its value. If you plan on selling your property, a well-renovated facade will help you get top dollar for your investment.
When you renovate your facade, you make it look good and prevent future damage. By repairing and sealing cracks, you're preventing water damage that could lead to even more costly repairs down the road.
Improved Energy Efficiency
One of the often overlooked benefits of facade renovation services is improved energy efficiency. Sealing cracks and gaps prevent drafts that can lead to higher heating and cooling costs. In the long run, you'll save money on your energy bills.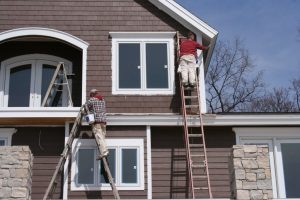 Whether you're looking to improve the curb appeal of your property or you're required to do so by the NYC Building Code, many benefits come with facade renovation. If you're considering a renovation, work with a reputable, experienced contractor for the best results. 
Hiring Professionals for Facade Renovation
​As a property owner in New York City, you are responsible for the upkeep and maintenance of your building's facade. This essential element protects your investment and ensures the safety of your tenants or customers. When it comes time for a facade renovation, you must hire experienced professionals to get the job done right.
There are many reasons to renovate your building's facade. Maybe it's time for a fresh look, or you need to make repairs after damage from a storm. Whatever the reason, a facade renovation in NYC is a big project. You need to find the right team of experts to handle the job.
The first step is to assess the condition of your building's facade. This will help you determine the scope of the work that needs to be done. Once you understand the work that needs to be done, you can start shopping around for contractors.

Make sure to get bids from multiple contractors. This will allow you to compare prices and services. When you're looking at bids, pay attention to the details. The lowest bid might not be the best deal if it doesn't include everything you need.

Once you've chosen a contractor, ensure you have a detailed contract. This contract should outline the work to be done, the materials to be used, and the timeline for completion. A contract will protect you if there are any problems with the job.
A facade renovation is a big project. But with the right team of professionals, it can be a smooth and successful process.
Final Thoughts on Facade Renovation 
​As the summer comes to a close, we find ourselves at the end of another facade renovation season. It's been busy, with plenty of new projects to keep us alive. We've had the opportunity to work on some great projects and learned a lot along the way.
Looking back on the season, a few things stand out to us. First, we're struck by how much work goes into a successful facade renovation project. There's a lot of coordination that has to happen between the various trades, and it's essential to have a good team in place to make sure everything goes smoothly.
We're also struck by how important it is to have a clear vision for the project from the start. Without a clear vision, it's easy to get lost in the details and lose sight of the overall goal. It's essential to have a clear idea of what you want to achieve before you start and to keep that vision in mind throughout the project.
Finally, we're struck by how rewarding it is to see a project through to completion. It's always gratifying to see a project come together and to see the positive impact it can have on a community. We're proud to participate in the process and look forward to another busy season next year.